A joint project of Raven's Moon Vapor and Jai Haze. Meet the Jenna RDA Atomizer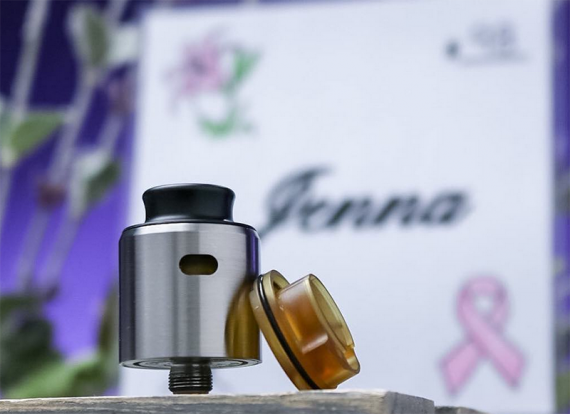 Good day, dear vapers and all those who are interested in the topic of electronic cigarettes. Today we will again plunge into the variety of drip atomizers and look at another interesting and fascinating model, which is a joint project of two companies at once. Manufacturers such as Jai Haze and Raven's Moon Vapor worked on the design and construction of this model. Separately, these two companies more than once fell into our reviews and they already presented a couple of dozens of interesting models for the global vaping community, but now we have a joint project that may be of interest to someone. Well, in general, we have before us a drip atomizer of not quite small dimensions with an upper blower. Also in this model there are several interesting points, which we will talk about a little later, when we consider the features of the construct.
Honestly, I expected a slightly different packaging, but in fact there is nothing to tell you about, because the atomizer is packed in a regular "bubble wrap". All contents are wrapped tightly with this material. Inside, the atomizer itself is packed and two additional zip bags in which, in addition to standard spare parts for maintenance and tools, you will certainly find a pin for squonkers and special plastic spacers so that you can adjust the airflow of the spiral in different ways. Well, you will also find a cardboard card in the package, which is also a warranty card.