asMODus Minikin 3S kit
We continue our acquaintance with the updated flagships of asMODus. We already felt the "simple" version, the "sophisticated" one in turn. These two instances have not so many differences, therefore I will try to focus on the main distinguishing points.
Dimensions: 88x 46.5 x 36.6mm
Weight: 166g Case
material: zinc alloy
Power: 2 x 18650
Chipset: GX-200-UTC
Output power: 5 – 200W
Voltage range: up to 7.5V Peak
current: 35A
Operation mode : POWER, TC (NI200, SS, TI), TCR, TFR, CURVE
Temperature range: 200 ℉ – 600 ℉ / 100 ℃ – 315 ℃
Supported resistance: 0.1 – 3.0Ω
Protection: against low / high resistance, against overheating, against short circuit, against reverse polarity, against overcharging / overdischarge
Connector type: steel 510, pin gold-plated, spring loaded
Screen / diagonal: yes, color, touch, HD
Micro-USB port / charging: there is Type-C, charging current 1.5A, the possibility of wireless charging
Update / firmware: yes
Color: see the photo below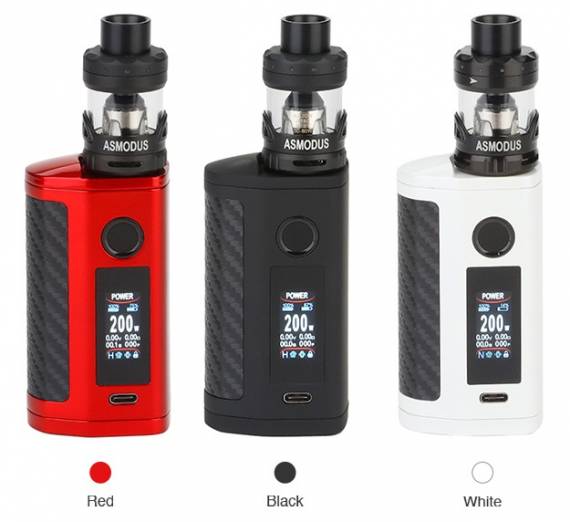 Viento Sub-Ohm Tank
Case material: stainless steelAtomizer
type: maintenance-free
Evaporators: 0.18Ω
Capacity : 2 / 3.5 / 5ml
Diameter:25mm landing / 27mm maximum
Height: 48mm with drip type
Connector: 510, pin gilded
Weight: 76g
Color: see photo above
Options
– Minikin 3S mod
– Viento Sub-Ohm Tank
– replaceable evaporator 2 pcs 0.18Ω (one pre-installed)
– USB cable
– warning
– warranty card.

The user manual is now only offered in electronic form – care for the environment, after all. You can download it at the following link .
We start right away with the worst news, though there will probably be only one. There is currently no separately available mod for sale – a new non-service has been added to the load. It is with her that we will begin. The Viento Tank is quite massive and heavy, but not particularly tall. Appearance does not stand out from the generally accepted canons in this segment. The decor is not exhausted, but an element of interest in this regard is present – a metal frame "above" the glass.

The drip type is made of delrin, landing it has its own – the manufacturer often sins with such decisions – you will not install anything of your own here. The lid is movable, and the stroke and snap are sooo tight. Well, at least there is a clue where exactly to apply force, otherwise you can't even determine how to open it. Average filling hole – no complaints. The capacity is small, magnifying glass is sold exclusively separately.

Replaceable evaporator on a grid, replacement identical. The taste transfer is quite normal for non-service, but this is not the most delicious instance in my segment that I had a chance to try. It is clear that the place of such a tank is precisely in the kit and it is unlikely that anyone will purchase it separately. In general, the normal taste, which is characterized by most of the complete non-services.

Adjustable by blowing a tight rotary ring at the base of the tank, risks and a stopper are present for convenience. The air intakes are small, but there are three. The latter, paired with a "mesh" evaporator, can produce a decent amount of steam, albeit not the most delicious.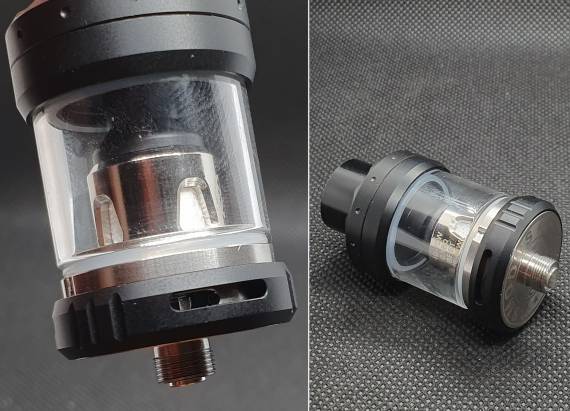 We pass to the second participant in the set – the second version of the third minikin. Box mod is very easy to distinguish from a fellow. Firstly, the upper platform is not flat, and even with a specific recess around the connector. By the way, due to such a construct, the device is several millimeters higher than the usual version – the remaining dimensions are almost identical. Secondly, it is a fundamentally different fire button – visually it differs "only" in color. Thirdly, this is an insert in the back of the device for carbon.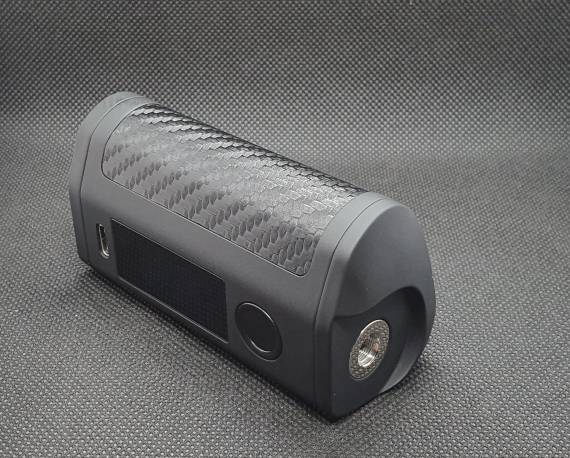 There are a lot of discussions about the form factor – yes, it is very specific and it's better to try it yourself before buying. I already set out my thoughts on this issue in a fairly detailed manner in the review of the first version. Therefore, here I will only repeat – I liked both the form and the grip. Not to mention the originality of the performance – tired of bricks, ryxes, oval profiles like the SX Mini. I want to unwind … By the way, the carbon fiber insert makes the grip more confident. Coverage, like that of a colleague, is something like a soft touch.