ROOK RDA from Benevi Mods. Everything is simple, convenient and two blowing in addition
Good day, dear vapers and connoisseurs of delicious electronic steam. I bring to your attention another product from Benevi Mods , my first acquaintance with these guys happened not so long ago, but as it turned out they have enough devices that can be interesting for vapers, in addition to high-quality mods, the company offers its best practices in the atomizer category, and some models really worthy of attention and should be evaluated adequately and properly. Today I would like to offer you a look at a model called ROOK RDA. Before us is a small drip with a 24-mm diameter with a well-thought-out design, with double blowing of spirals and a double installation. I don't know why this model was previously unattended, I have to fix it, which is why I propose to begin our acquaintance with this atomizer from Benevi Mods.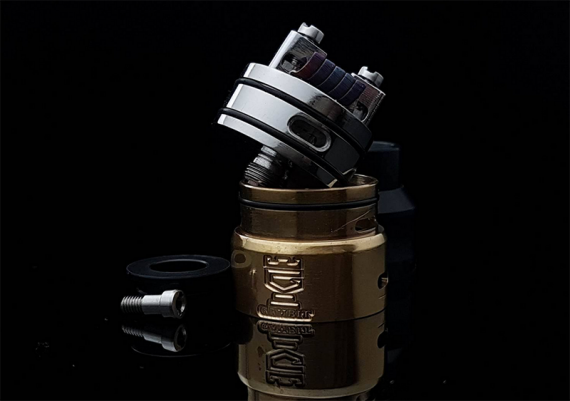 The atomizer comes in a small cardboard box with the company logo on the lid, you will not find any more inscriptions on the box. As for the configuration itself, there is something to look at, complete with this atomizer you will find a bunch of additional and spare parts for servicing the device, it is also worth noting the presence of a spare pin. Also in the box you will find a warranty card with a unique serial number, manually entered by developers, company representatives. Well, another separate bonus of the delivery kit is a small rag bag, with which you can easily transport the device when it is outside the setup with your battery packs. At this time, it's time to finish with a complete set and presentation, and it's time to move on to the appearance and design of the device.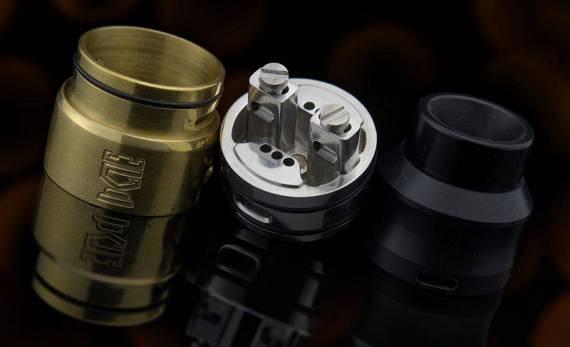 You probably already managed to notice from the photo that the atomizer is not of the simplest design, it itself consists of three parts, of which we select the served base of the cap and the non-standard drip type, which is also an element that takes part in the regulation side blowing. The diameter of the model is 24mm. Height with complete drip tip – 37mm. The drip is available in two versions, which you can see in the photo below, the main materials of construction are stainless steel and heat-resistant plastic. In the lower part of the drip, you can see the engraving with the name of the model, also several engravings are present on the base, around the 510th connector, there, in particular, the unique serial number of each individual model is indicated.