Smoant Pasito Rebuildable Pod Kit
So I decided and express my hope, useful to someone, opinion about this set. Yes, this is far from a novelty, however, a very honorable fate awaits her. As far as I remember, this is the first AIO that went into mass production, which can be serviced independently. And this means down with replaceable evaporators, their long wait after ordering, and the savings are not bad, both in time and in nerves.
Smoant Pasito Rebuildable Pod Kit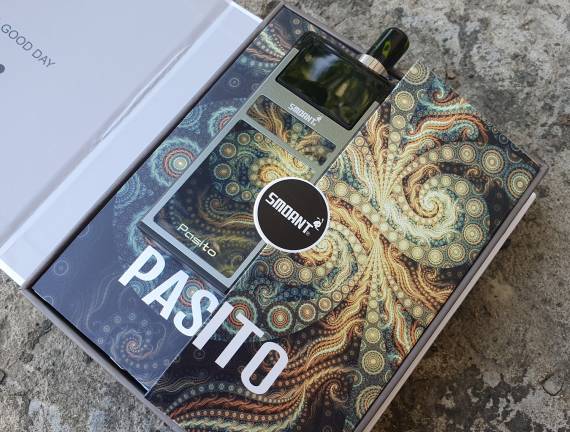 Dimensions: 101 x 38.5 x 18mm
Weight: 84g Case
Material: Aluminum Alloy + Plastic
Power: Built-in 1165mAh
Chipset: ANT chip
Cartridge Capacity: 3ml
Evaporator Resistance: 0.6 / 1.4Ω
Output power: 10 – 25W
Voltage range: 3.2 – 4.2V
Operating mode: POWER
Supported resistance: 0.3 – 3.0Ω
Protection: against low / high resistance, from overheating, from short circuit, from overcharge / overdischarge
Connector type: magnetic
Screen / diagonal : no
Micro-USB port / charging: yes, Type-C, charging current 0.8A
Color: see photo below

Options
– Pasito mod
– replaceable cartridge (pre-installed)
– replaceable evaporators 2pcs 0.6 / 1.4Ω (one pre-installed)
– Type-C USB cable
– user manual
– Warranty card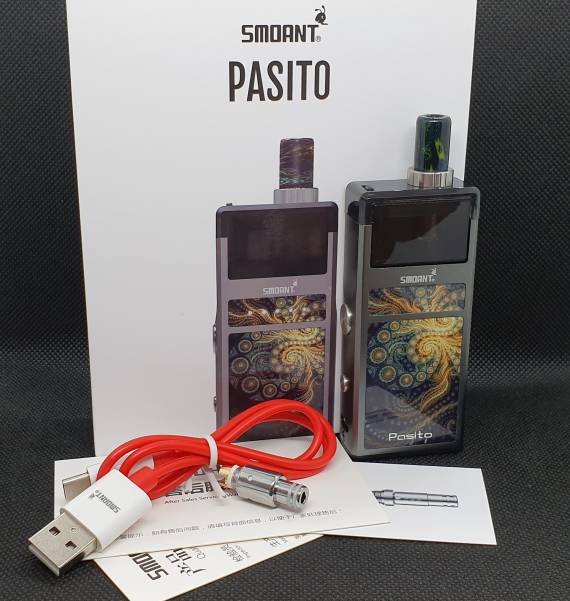 A few words about the configuration, or rather about the submission. It's not enough to call such a gift box; you can immediately arrange such a packaging in the vape museum. During my break in communication with this brand, apparently, a lot has changed in their marketing "policy".
We start by tradition with the exterior. The developers did not philosophize with the form factor – they borrowed the most popular one – in the form of a "mini walkie-talkie". The case is aluminum, and this certainly promises a small weight and a certain strength. Lacocras seems normal – it is unlikely to come off quickly. As a decor, three plastic inserts with prints are used. I can't say what they look like they went, rather exotic. Fans of strict classics can safely go through the woods – the developers did not take care of them.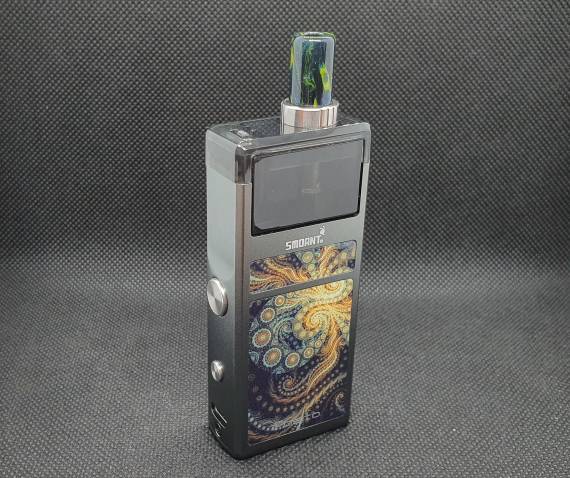 Ergonomics are pretty good – they are provided by anatomical "troughs" in the upper part of the device, plus a small width and thickness of the case. Therefore, the device is absolutely comfortably taken in a closed grip, it is possible to operate with at least the index, at least with the thumbs. However, in height, our hero is a very decent "rafters." This can be compared with full-fledged boxing mods. This fact did not upset me at all, but this comrade is obviously far from the usual hearths for us.