Stylish, compact little thing for "fast vaping" (Baton Pod Kit from Batonvapor)
Hello again, dear vapers and connoisseurs of delicious electronic steam. We continue to get acquainted with interesting models and get acquainted with new devices and devices that you did not know about before. This is how the modern vaping industry works, so today manufacturers give vaping devices something that only vaguely resembles vaping for real vapers who already know a lot. For example, Pod systems for hovering, or for "fast vaping" appeared relatively recently and today they are very popular among most vapers. But with the help of such kind of devices you won't be able to fully experience what the steam process is, such devices will be relevant among those who are just thinking about switching to electronic steam or staying with tobacco products, often these types of devices do not allow you to enjoy the process of hovering, some call the use of such devices simply simply indulgence, but do not forget that such devices are very popular and in demand today. I bring to your attention the operating time of the companyBatonvapor , which entered the market with a device called the Baton Pod , is a small electronic cigarette with a built-in battery and removable cartridges, whose life is designed for 500-700 puffs.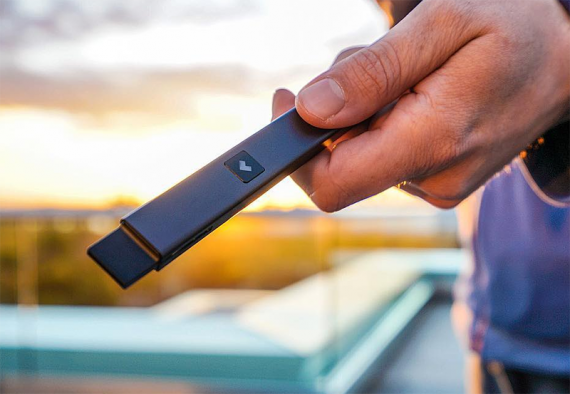 Well, what is this before us a device that does not cost more than $ 30 , in various stores selling electronic cigarettes at discounts you can find it for 25 or even $ 20. Actually the box or packaging here is the simplest, white in color with the image of the device itself on the lid. In the package you will find the battery pack, two cartridges for recharging the cable and, of course, the user manual. A set of two cartridges will cost you about $ 10, if you buy empty cartridges, but since the company also produces liquids, it offers cartridges along with filled liquids at a price of $ 15 for two cartridges. There are also kits that are understaffed with 30ml liquid bottles.
All devices from this category look approximately the same. Flat format, logos, button and all. Here, especially the appearance does not have to be discussed. In our case, everything is also very simple. There are only two options for the exterior design – there are black and pink colors, probably male and female. On the case, in the upper part there is a start button, in the lower part there is a recharging system with a magnetic connection, and of course, the cartridge itself. The height of the device is approximately 90mm. In the upper part on the sides there are special cut-outs in the housing with the help of which it is easy to monitor the fluid flow in the cartridge.