ULTRONER Mini Stick Mechanical Mod + Ultroner RDA Kit – affordable beauty
Since Saturday has come, I suggest that you stop loading your gray substance, exhausted during a difficult week, and simply enjoy what you see. And there will be something to admire. Today, I am pleased to invite fans of compact specimens to the monitors, moreover, they are also "bitten" in an original way.
As you know, ULTRONER – by the way, a subsidiary of Asmodus – has special feelings for stabwood. Therefore, most, if not all, of their creations have such a finish. Today's device is also not an exception.
ULTRONER Mini Stick Mechanical Mod + Ultroner RDA Kit

Dimensions: 70 x 24mm
Weight: 68g Case
Material: Stainless Steel + Stabwood
Power: 1 x 18350
Output Power:unknown
Operating mode: POWER
Supported resistance: unknown
Protection: against low / high resistance, from overheating, from short circuit, from incorrect polarity
Connector type: steel 510, gold-plated pin, spring-loaded
Screen / diagonal: no
Micro-USB port / charging: no
Color: see photo below

Options
– Mini Stick Mod
– RDA
– beauty ring at 22mm
– beauty ring at 24mm
– lanyard
– spare parts
– user manual
– warranty card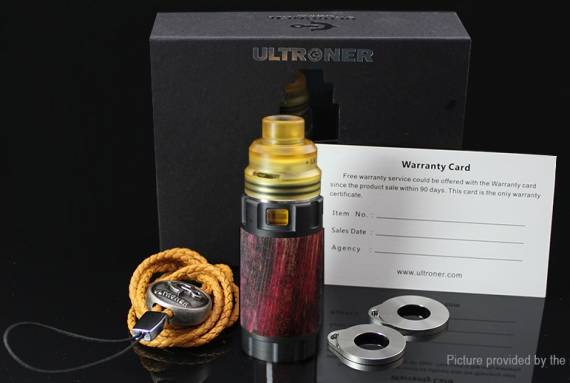 Just a few words about the atomizer. I hardly picked up info about fashion, while about drip it was completely silent. I will definitely supplement the article as the nuances appear, if it will go only in the set. Well, if it is offered separately, then we will single out a separate article for it. I think there will be something to see. So far, it is only known that it will probably be 24mm in diameter, and from myself I will add the assumption – this is a single-spiral. Captain evidence, isn't it?)))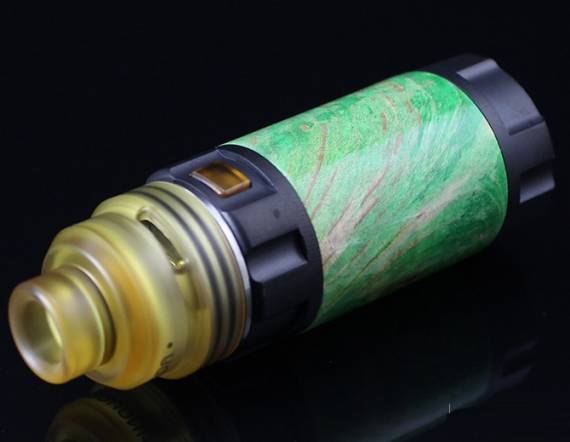 With dimensions, not everything is clear, some sources talk about the number 22mm – diameter, but I'm inclined to 24mm. Naturally, this is just a tiny pipe-line – even with a complete drip box, he risks lurking in the owner's palm without showing his nose out.

It looks pretty decent, perhaps this can be said about every creation of this manufacturer. For the decor, as always, the answer is from the stabwood insert.