Voopoo Finic 20 AIO – a little thicker, more powerful and more autonomous
Well, and summing up the topic of new products from Voopoo, I introduce you to another starter kit. As you can see, this instance is configured more seriously than the previous one. Probably, I won't delay you much, because the copy turned out to be quite simple. Moreover, if you read the previous article, you will notice that some elements of new products have something in common. However, the difference between the two is obvious.
Voopoo Finic 20 AIO

Dimensions: 117 x 20mm
Weight: unknown
Case material: stainless steel + plastic
Power: built-in 1500mAh
Chipset: GENE. chip
Cartridge capacity: 2ml
Evaporator resistance: 0.6 / 1.2Ω
Output power:6 – 22W
Voltage range: 3.2 – 3.7V
Operating mode: POWER
< Protection: against low / high resistance, from overheating, from short circuit, from overcharging / overdischarge
Screen / diagonal: no
Micro-USB port / charging: yes, charging current unknown
Color: see photo below

Options
– Finic 20 AIO mod
– replaceable evaporator 2pcs YC-R1 0.6Ω / YC-R2 1.2Ω (one preinstalled)
– spare origins
– spare glass
– USB cable
– user manual
– warranty card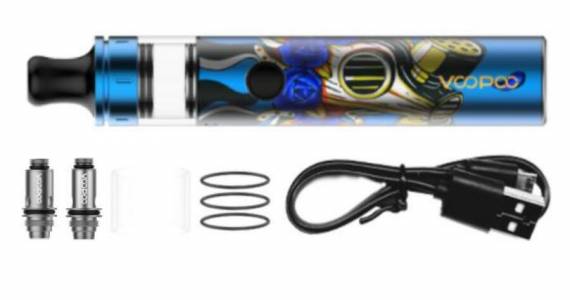 This our guest is a little nicer than the previous one, but except for the colorful prints, perhaps, there is nothing to catch on the eye. It is quite possible this is a plus, because the presence of vulgar decor in such a segment is completely useless. It is larger, but in height it is the same 117 mm.

The developers especially tried to design this model. Therefore, in addition to standard coloring options, bright prints are also available from the start. And what, youth, modern – in the spring.

And again, we see the praised drip type. Probably he really will be a convenient instance.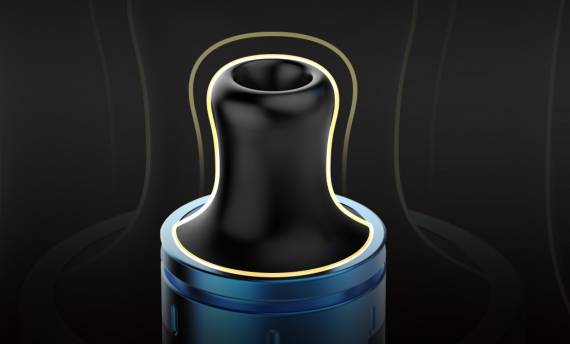 The cap is screwed again, metal thread. The fueling holes are paired, but they seem very small. The capacity, by the way, is exactly the same – small.

As replaceable evaporators, two types of coils are presented. Developers are positioning them for MTL and DTL. However, at the same time, we notice already familiar air intake grilles on the main body without the possibility of adjusting the airflow. Somehow it does not fit with one another. It is possible we don't know something, but a purely visual adjustment of the airflow is not detected.