An interesting presentation of a 2-in-1 mechanical mod (SHIERA by MODERS of THE BOSS MOD)
Good day dear vapers and all those who are interested in the topic of electronic cigarettes and everything connected with it. Today we will consider a very interesting instance of a mechanical mod from the company BOSS MOD. This company represents modders from the Philippines, there are many companies that thrive and constantly delight vapers with their unique and reliable designs, which will surely serve their owners for a long time, if you buy a product from Filipinos – you can be sure that product support will be provided for 2 years, or even more, because some even provide a lifetime warranty on their products. That's how the guys are confident in their product and most vapers from different countries have already appreciated this and still use Filipino mods or atomizers, in general, know what really good devices are made in this country for the global vaping community. Today, the main character of our review is a unique and practical mechanical mod called SHIERA, whose design features will be discussed a bit later.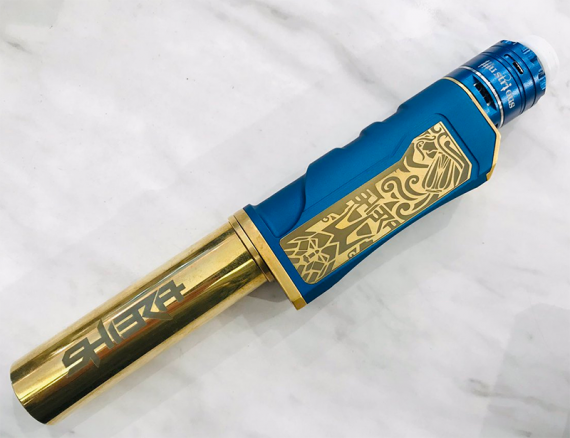 Well, for starters, let's, by the standard, get acquainted with the presentation and equipment of the device and determine the price tag of this product. Well, what do you think, a mod for $ 200 will be packed in a cardboard box? I also think that they won't, since they need to win the sympathy of customers from all over the world. The mod is packaged in a wooden box, on which a variety of ornaments are carved manually, so this package can easily replace you with a good box. In the package there are a lot of parts, adapters and spacers, below in the photo you can see the mod in disassembled condition with additional elements of the package. Also in a wooden box you will find a warranty card with a unique serial number, a business card with information about the manufacturer, and a small fabric bag for transporting the mod.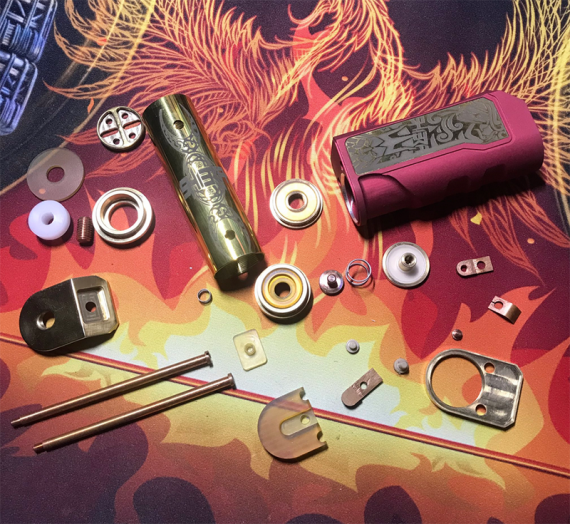 How would we deal with the appearance. After all, it turns out before us almost 2 mod. In general, let's first look at the mechanical mode in a plastic case, and then at the mode, which is a regular tubular mechanical mode. Well, the case of the mod is made of heat-resistant plastic, today it is known that the manufacturer offers a choice of several color options, all of which you will see in the photo below. This case is very ergonomic with thoughtful notches and tight lines, with the top location of the start button. There are enough ventilation holes on the case. The maximum allowable diameter of atomizers for a plastic case is 24mm, for single fur, the maximum diameter of atomizers is limited to 22mm.