The Smoant Karat Pod System is not just an electronic cigarette, this vape is designed to distinguish you from the crowd and show your personality to others.
The material of this vape is made of a mixture of zinc alloy with plastic in five different colors.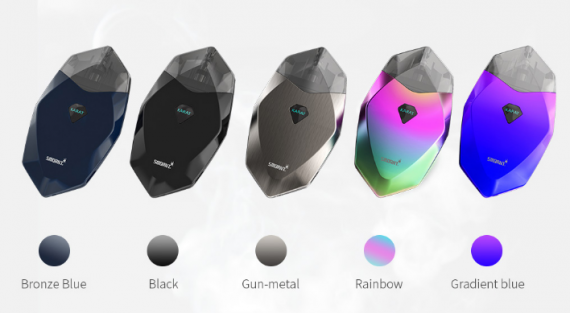 The geometry of the faceted diamond pushed for such a stylish design by the creators of the model, it was the diamond edges, skillfully executed by jewelers, that gave birth to the Karat Pod System Kit model, and were also reflected in its name.
The battery of the Karat Pod System Kit has a capacity of 370 mAh and is protected against overheating, overcharging / overdischarge, and also against short circuit. The time to fully charge the battery usually does not exceed 1 hour. A full charge lasts for 220 puffs, depending on the volume of inspiration. The USB connector for charging the device is located in one of the lower faces, and you can also see a carabiner for attaching the strap for comfortable wearing.
A translucent cartridge is located at the top of this model, and is removable, made in the form of two adjacent containers, you will have a choice: which one to fill the liquid in.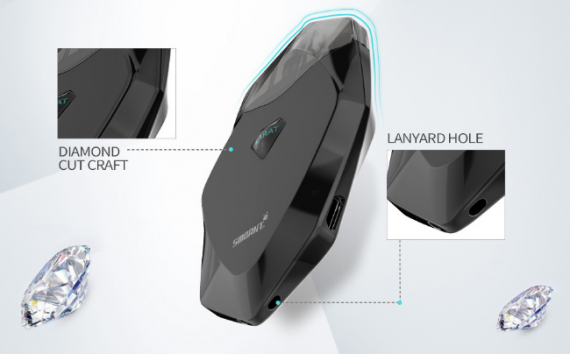 Activation of soaring occurs upon a puff, there are no buttons on the device and, accordingly, an additional waste of battery power.

Characteristics:
Size – 88 x 48 x 12 mm
370 mAh battery
The maximum voltage is 3.4 volts
Evaporator Resistance – 1.3 Ohms
Tank volume – 2 ml
Material: Zinc Alloy and Plastic
Equipment:
Karat Pod System Kit – 1 шт.
USB cable – 1 pc.
Operating Instructions – 1 pc.
Warranty card – 1 pc.