Marvec MV Pod Kit – no skin, no faces
The twenty-fourth day of our "not a day without a new AIO" marathon. Well done, keep the pace, have already met with a decent amount of sets. Most of them, of course, deserve attention rather out of respect, however, interesting specimens come across among all this "meal". But today, it seems to me, this will not be such a day)
Long time ago, Marvec did not look at our light, and now its finest hour has come. By the way, almost any manufacturer can envy the arsenal of devices released by her. I also add that this device was released a long time ago, but somehow got lost among other offers, therefore, quickly go over the main points.
Marvec MV Pod Kit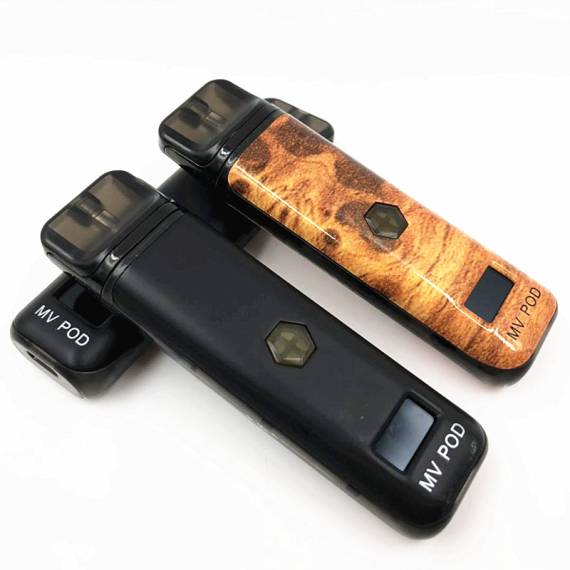 Dimensions: 89 x 19 x 14.5mm
Weight: 25g
Case material: plastic + metal
Power: built-in 400mAh
Cartridge capacity: 2ml
Evaporator resistance: 1.5Ω
Output power : 6/8/ 10W
Operating mode: POWER
Protection: against low / high resistance, from overheating, from short circuit, from overcharge / overdischarge
Connector type: magnetic
Screen / diagonal: yes
Micro-USB port / charging: yes, charging current is unknown
Color: see photo below

Options
– MV mod
– replaceable cartridge 2pcs (one is preinstalled)
– USB cable
– user manual
– warranty card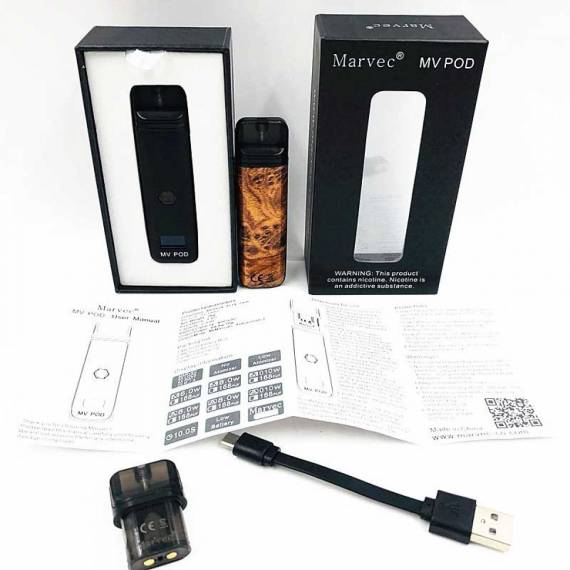 The appearance is strange – the device looks, as Borat Sagdiev used to say, "not very", even toy. That he is not taken by me seriously. Moreover, this "obscene" decor in the form of pseudo-wood panels – in a word, horror even without quotes. Dimensions are small, the form factor is vape stick.

From the start, developers offer only three design options – thank you for at least a dark color.

Replaceable cartridge of standard capacity. Frankly, I didn't even understand where he had a filling hole, he's not at the bottom for sure. The integrated vaporizer is designed for high nicotine content. The fixation is probably magnetic.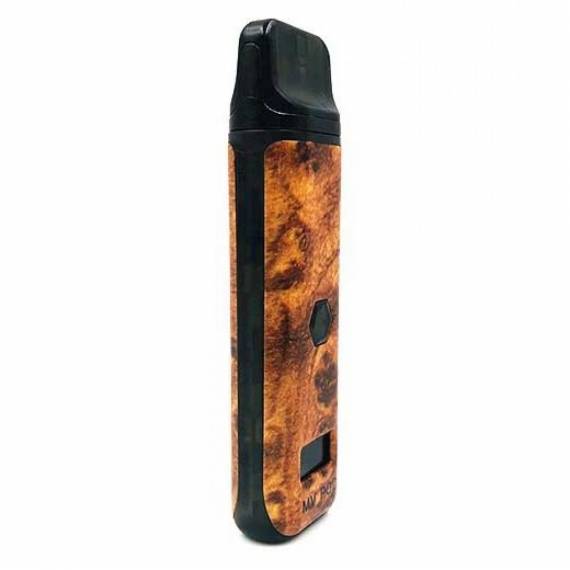 The built-in battery is of very small capacity, obviously it would be possible to push more. The charging connector is traditionally located at the bottom, the charging current is unknown. I will not assume, since anything can be expected from such a manufacturer.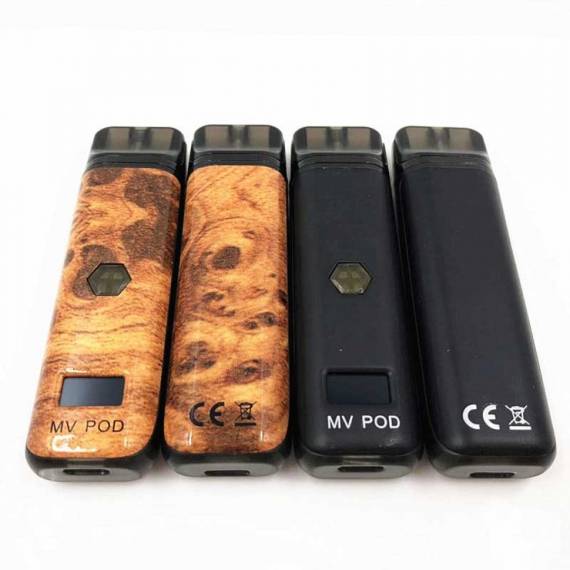 The central place of the stick is given under the control panel. The fire button is not large, it is frankly low. As I understand it, at the very base of a small display, we did not demonstrate its operation.

In addition to its main function, the fire button is responsible for switching the output power modes. In total, three of its options are provided.