Smok Stick V9 kit – a decent set for fans of non-services
Today, our guest will be, if not a novelty, but the specimen is quite interesting. It focuses more on novice users, but it can attract the attention of non-service lovers, as well as those who do not want to spend time "tuning" their atomizers, preferring tanks to them.
I am glad to inform you that after a long absence at our place, the products of one of the oldest, which means experienced brands, are Smok tech.
Smok Stick V9 kit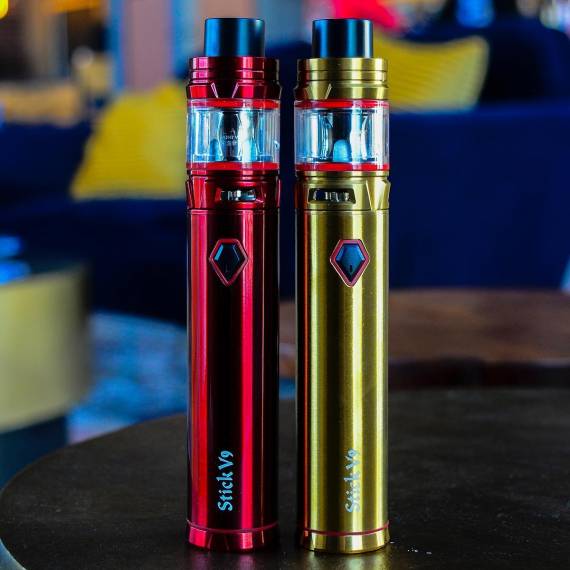 Dimensions: 89.2 x 24.5mm (mod only)
Weight: 101g Case
material: stainless steel
Power: built-in 3000mAh
Output power: up to 60W
Voltage range: 2.5 – 4.1V
Operating mode:POWER
Supported resistance: 0.13 – 2.5Ω
Protection: against low / high resistance, from overheating, from short circuit, from overcharge / overdischarge
Connector type: steel 510, gold-plated pin, spring loaded
Screen / diagonal: no
Micro-USB port / charging: yes , charging current 0.66A
Color: see photo below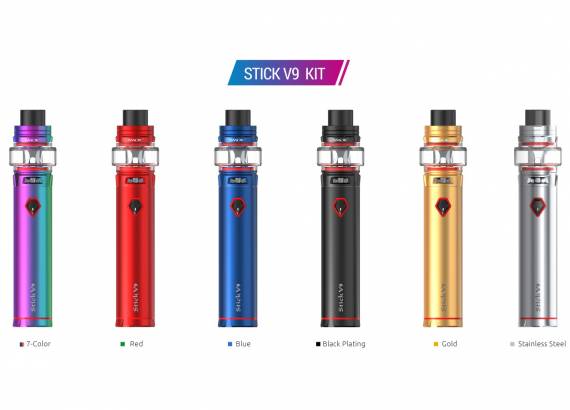 This set can be equipped with two non- service providers – TFV-Mini V2 or TFV8 Baby V2 . Technical characteristics of the latter are somewhat different. As you know, the TPD version will be equipped with a smaller tank.
Case Material: Stainless Steel
Atomizer Type:maintenance-free
Evaporators: 0.15Ω (detailed information below)
Capacity: 2 / 5ml
Diameter: 25.4 / 30mm
Height: 54mm with drip tip
Connector: 510, gold-plated pin
Weight: 65g
Color: see photo above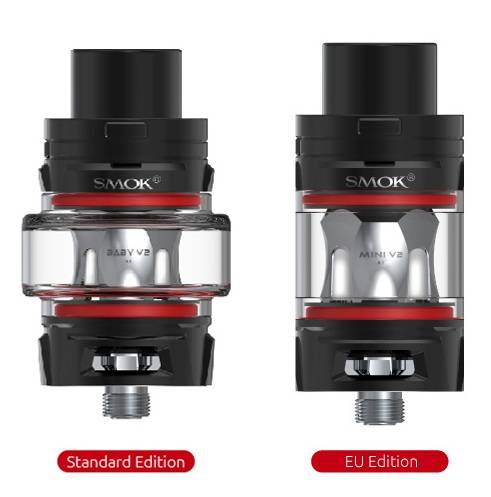 Options
– Stick V9 mod
– TFV-Mini V2 / TFV8 Baby V2
– replaceable evaporator 2pcs. 0.15Ω (one pre-installed)
– spare parts
– USB cable
– user manual
– warranty card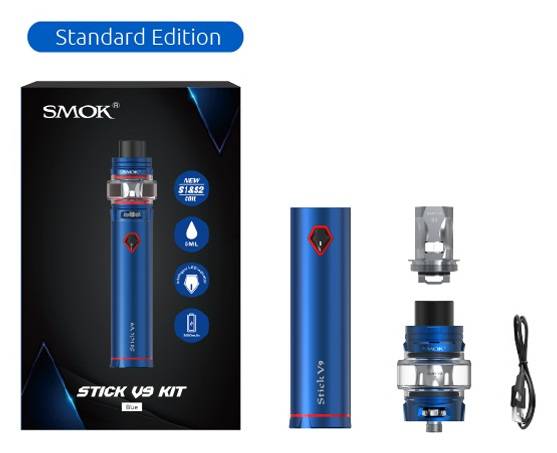 Let's start with the design and design. Our hero is not spoiled by decor – this is a strict, but at the same time neatly designed set. Naturally, the dimensions are not small, but admirers of this segment are familiar with such a thing. Despite this, the ergonomics of this form factor are quite acceptable.

We pass to the tank. Since in our country there are no restrictions on the capacity of atomizers, we will get acquainted with the TFV8 Baby V2 version.

The drip type is made of delrin; on all versions it is invariably dark. Under it is a sliding cover, and it moves sideways – just click on the appropriate button. Large-size refueling hole – will be able to accept practically any vials of any thickness.