SMPO Pod Kit
SMPO POD is a compact kit with a built-in 650 mAh battery and a 1.8 ml liquid cartridge already refilled (does not support refueling).
It exists in two colors and offers two cartridge fortresses to choose from: 18 mg and 50 mg.
The device is extremely convenient to use on a daily basis, as well as comfortable and compact, which allows you to carry an electronic cigarette everywhere with you.
SMPO POD replaces regular cigarettes and provides only a cigarette puff.
The design is made in such a way that eliminates any manifestations of fluid leaks, which is undoubtedly a huge advantage of the electronic cigarette SMPO POD.
The device is an electronic cigarette in which the capsule – "POD" with the vaporizer and liquid inside is installed. The device is designed in such a way that the battery capacity is enough for the whole day with measured soaring. One "Under" is designed for an average of 400 puffs. The shape of the device is convenient and comfortable to use, and the drip tip improves the taste during puffing.
SMPO POD does not need to be cleaned, refilled or maintained, just replace the used cartridge with a new one, fastening is very easy, and the POD is fixed thanks to built-in magnets.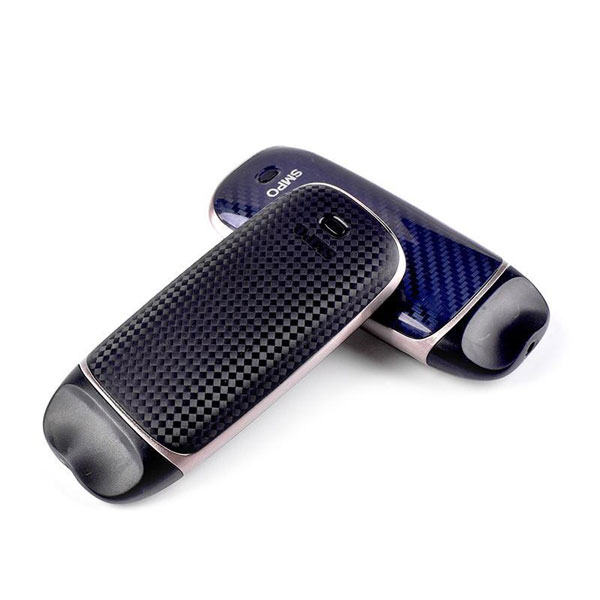 Specifications:
Parameters : 67 x 34 x 15 mm
Weight: ~ 50 g (with integrated hearth)
Battery: 650 mA / h (built-in)
Fixing the hearth with the body of an electronic cigarette through magnets
Battery indicator
Automatic temperature control
Hearth Low Fluid Detector
Fast charge mode
Color: Black, Blue
Equipment:
SMPO Mod device – 1 pc.
POD SMPO 1.8 ml with taste – Classic Tobacco – 1 pc.
USB wire – 1 pc.
Manual – 1 pc.
Warranty card – 1 pc.