The Ehpro Kelpie RTA is yet another single-spiral version with trellised airflow
Work on the next new product probably lasted for half a year. The development was carried out by Ehpro together with the British reviewer Vaping With Vic . Interest in it is fueled by the fact that it belongs to the segment of single-spiral tanks that has gained some popularity. Let's get acquainted with this long-lasting novelty.
Ehpro Kelpie RTA

Case material: stainless steel Atomizer
type: RTA
Capacity: 2 / 3.5ml
Diameter: 25mm
Height: 40mm with drip tip
Connector: 510, gold-plated pin
Weight: unknown
Color: see photo below

Options
– Kelpie RTA
– 2pcs coiled spirals
– cotton
– hexagon wrench
– screwdriver
– spare origins
– spare screws
– spare glass
– user manual
– certificate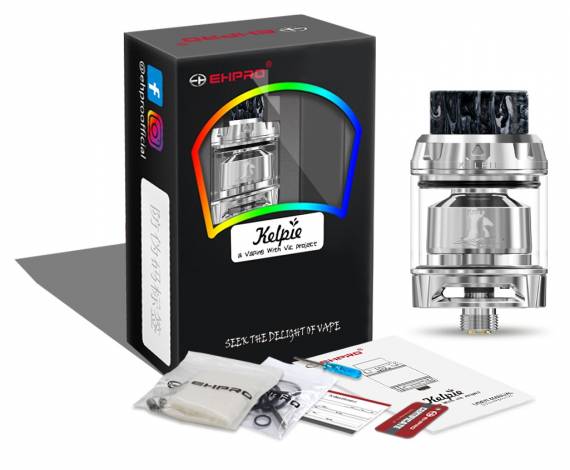 Appearance can not boast of special originality, but we must admit that our guest looks normal, not familiar and recognizable. She recalls, thanks to the compact dimensions, a kind of thick or stocky barrel. The decor is moderate – aggressive risks on the lid that do not carry any functional load, and the logo on the dome is a standard unobtrusive set.

From the start, only two classic colors will be offered, apparently the developers first want to test the demand.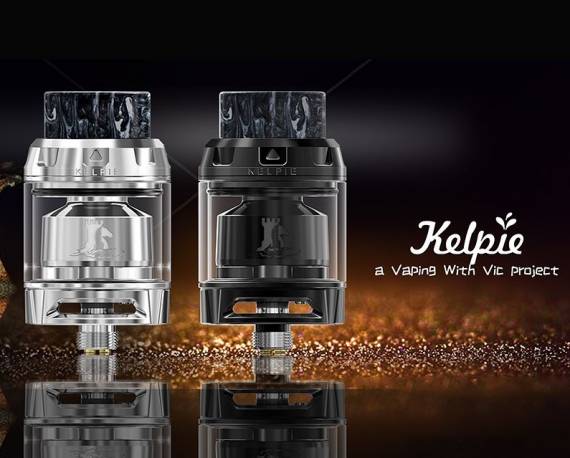 Drip type, as I understand it, the 810th, it is made of acrylic. It sits in a sliding cover, under which lies the only medium-sized filling hole.

The capacity is not the largest, and this is also taking into account the use of the complete "magnifying" glass.

The deck is quite interesting, but you definitely already saw some elements somewhere.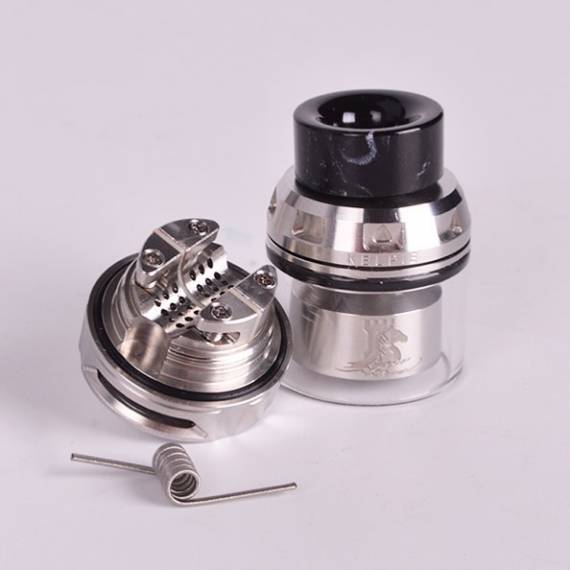 In total, there are, as it were, four racks for the correct fixing of only one spiral. And four of them are just for convenience or a variety of fixation options.

The sieve of blowing is quite wide, that is, it involves the installation of multi-turn coils. Its profile is semicircular, therefore the air flow will "hug" the spiral from below and on the sides. We saw something similar on the mini version of Kylin.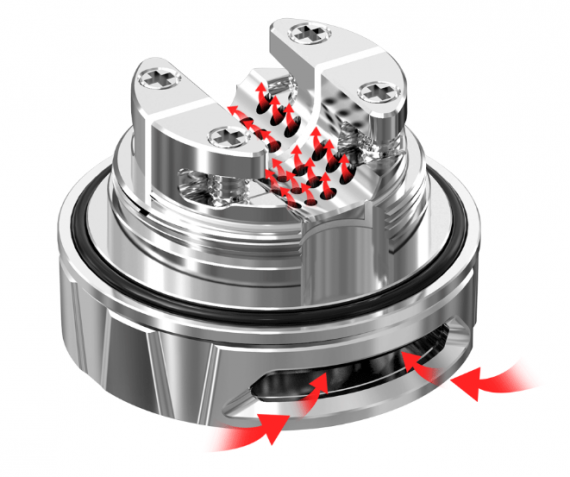 Holes for laying cotton without limiters, visually they do not seem large.

Airflow control is implemented in a standard way – a risk swivel ring located at the base of the atomizer. The air intakes are of a very decent size, so a very loose tightening can be expected.