Vapefly Jester Pod – served by AIO – the second is already more interesting
The nineteenth day of our "not a day without a new AIO" marathon gave us a truly interesting copy that Vapefly acquired. The mere word "served" added to it elevates him to the top of today's news. By the way, not so long ago, my colleagues have already presented you a similar solution from the manufacturer Smoant. However, our guest today, it seems to me, will be a cut above him.
Vapefly Jester Pod

Dimensions: 91 x 33 x 18.2mm
Weight: unknown
Case material: plastic (likely)
Power supply: built-in 1000mAh
Cartridge capacity: 2ml
Evaporator resistance: 0.5 / 1.2Ω
Output power: unknown
Operating mode: POWER (3.3 / 3.8 / 4.8V)
Supported resistance: 0.8 – 1.5Ω (recommended)
Protection: against low / high resistance, from overheating, from short circuit, from overcharge / overdischarge
Connector type: non-magnetic
Screen / diagonal: no
Micro-USB port / charging: yes, unknown charging current
Color: see photo below There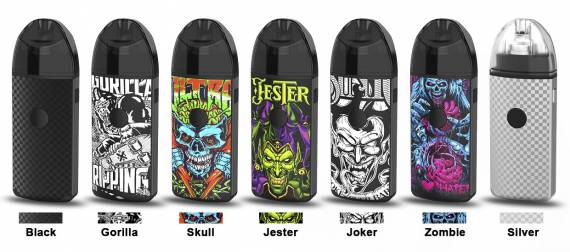 are two options: one simple (with non-services included), and the other with a serviced cartridge.
Jester Pod Meshed edition
Package Contents
– Jester mod
– replaceable cartridge (pre-installed)
– replaceable evaporator 2pcs 0.5 / 1.2Ω (one pre-installed)
– USB cable
–
Jester Pod DIY edition user manual
Package
Contents – Jester mod
– replaceable maintenance-free cartridge (preinstalled)
– replaceable maintenance cartridge
– pre-assembled spirals 2pcs
– cotton
– spare screws
– screwdriver
– replaceable vaporizer 0.5Ω
– USB cable
– user manual
Outwardly our guest modest enough – it's me about the decoration and form factor. Dimensions are average, the shape is flattened. If you do not pay attention to colors, then this is quite ordinary, but rather a "gray" instance.

But with the colors, the developers obviously overdid it – only two of seven classic designs.
Cartridges are two types. The capacity in both cases is standard, both copies are refilled from above – before that you will have to remove the protective cap, but it is not necessary to remove the cartridge from the mod – this is buzzing.

The first is designed for interchangeable coils, of which two types are offered. Airflow is adjustable.

The second cartridge has the usual, read familiar to the payman, deck. A pair of racks for the correct fixation of one spiral. In the center is a small nozzle of the lower blower – the diameter is unknown. By the way, I'm drowning in it, you can even just drip on top)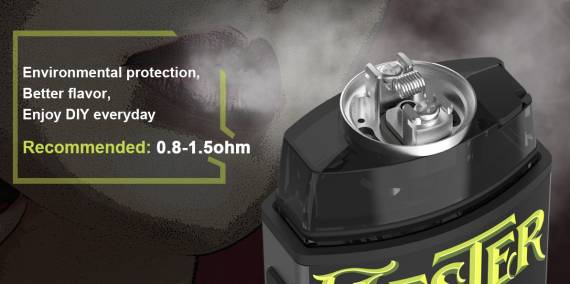 Two slots for cotton on the sides. Everything looks quite worthy. However, not a word is said about the adjustment in this case. I really hope that it exists, otherwise the meaning of this event will simply be lost.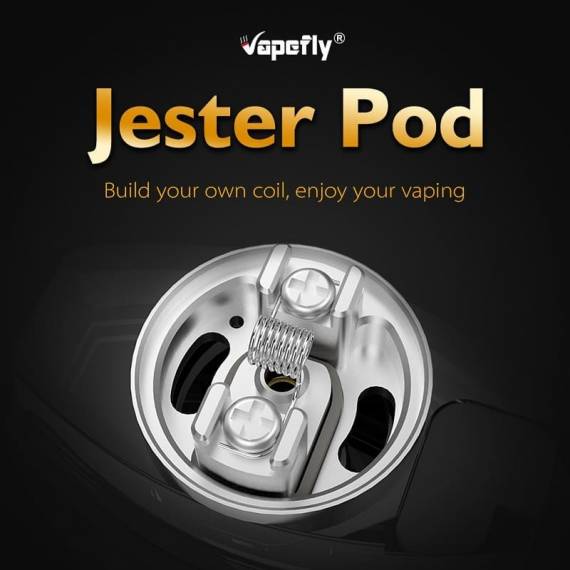 By the way, the cartridges are fixed not with a magnetic connector, but with a special mechanism – the buttons for "unfastening" settled on the ends of the device. As for me, this method is much more reliable.

The main body hides a built-in battery with a standard capacity, the charging connector is located at the bottom. The charging current is just unknown – I believe it will be within 1A.

The central place of the front side is given to the fire button. It is small, plus an LED indicator is built into it. In addition to its main function, it is able to change the output voltage. There are three modes in total.